Competent Climber/Rescuer
Industry leading Climber/Rescuer course taught by trainers with years of real world experience
By: Safety LMS | Format: In Person |
Duration: 3 Days |
Language: English
What you'll learn
Course covers industry standards, equipment and climbing techinques.
Practical portion of the training covers self rescue and several types of companion rescues designed to ensure students become proficient in skills needed to perform a potentially life saving rescue
---
This class includes 1 day of classroom instruction and 2 days of on-site practical instruction. On-site instruction will consist of basic and advanced climbing and tower rescue procedures. Students will participate in several rescue scenarios.
Successful completion of this course is dependent upon passing the written exam and satisfactory demonstration of skills on the tower. At Safety LMS we do not require climbers to sit 2 classes to move up through the ranks. A brand new climber can simply take the Competent Climber class, then once they pass, will leave with an Authorized Climber certificate. They will then climb under the Authorized climber restrictions for at least 90 days, then once a competent person deems they are also competent you contact Safety LMS and we will send out their new card giving them Competent Climber credentials.
---
Regulations & Standards
Fall Protection Hierarchy
Anchorages & Anchorage Connectors
Primary & Secondary Connections
Equipment
Synthetic Ropes
Climbing Techniques
Pre-Planning
Descent Control
Inspection, Care, & Maintenance
Exam
Practical Rescue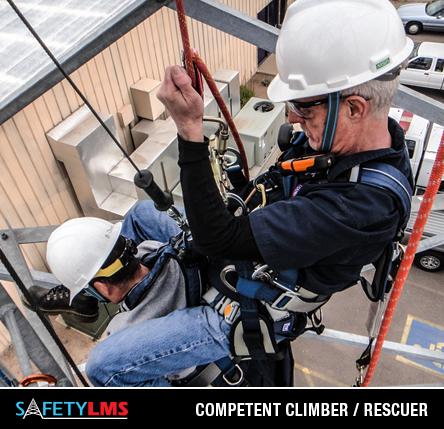 $1,725.00
Topics covered:
ANSI Z359 Compliant
NATE CRTS Compliant
8hrs Classroom & 8-16hrs practical time
Ability to run the class at SLMS or customer's facility
See more...
$1,725.00
Contact us for more info
There are many options, including
Group discounts
Training at your location
Custom classes
Much more