Competent Rigging (Train the Trainer)
By: Safety LMS | Format: In Person |
Duration: 1 Day |
Certification: 24 Months |
Language: English
What you'll learn
This course will allow qualified individuals to become certified to teach Competent Rigging in-house. A qualified individual has 5+ years of industry experience or equivalent college degree
The company must also meet basic requirements. Once the trainer delivers the course material, the student will take the exam and submit the information back to Safety LMS for auditing. Upon successful completion of the course, Safety LMS will issue an electronic and wallet certificate. This course requires retraining every 2 years.
---
This course details all aspects for the ASSE/ANSI 10.48-2016 Standard and is designed with a specific emphasis on load calculations and rigging plans for antenna and line and structural modifications crews using a capstan hoist as the primary means of lifting loads with a line pull not exceeding 1,000 lbs. This full-day course is taught in the classroom and is intended for individuals who are experienced riggers, qualified persons or qualified engineers.
During Safety LMS's Competent Rigging class, students will review skills learned in the "Basic Rigging Principles" course as well as advanced rigging standards outlined in the ASSE/ANSI 10.48-2016 Standard.
Successful students will meet the criteria to create rigging plans as outlined in the standard.
---
History of the Regulations & Standards
Structural Failures
Overview of Rigging Principles
Sling Angle Calculations
Block Angle Calculations
Capstan Hoist Overview
Calculating Rigging Loads
Different Rigging Plan Scenarios
Rigging Plan Development
Proper Equipment Selection
Exam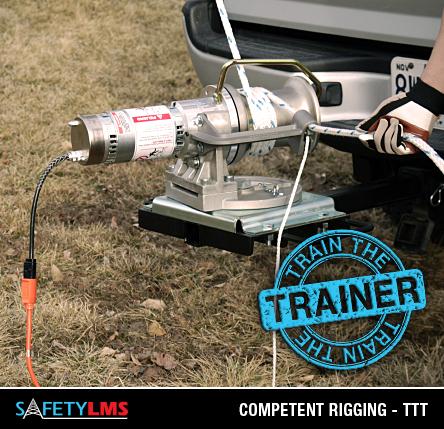 $2,950.00
Topics covered:
8hr Classrom based training
ANSI 10.48 compliant
Taught by instructors with real world experience
Ability to run the class at SLMS or customer's facility
Free access to SLMS Facility's for training
See more...
$2,950.00
Contact us for more info
There are many options, including
Group discounts
Training at your location
Custom classes
Much more